Beirut North Vision Party 14

Official Logo
Information
Entries
24
Date
17 May 2013
Host
Venue
Beirut Waterfront
Presenter(s)
TBA May 1st
Beirut North Vision Party
15►
Beirut North Vision Party 14, often referred as BNVP 14, was the first concert of Beirut North Vision Party organized by LBC Europe for North Vision Song Contest 14. The concert will feature singers from the 14th edition of North Vision Song Contest, and past editions of the contest.
Location
For further information see Beirut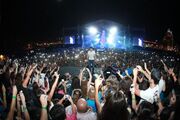 LBC Europe revealed on 12 April 2015 that the concert event will take place in the Beirut Waterfront, in Beirut.
Participating countries
Twenty-Four North Vision from thirteen countries will take part in the concert.
Ad blocker interference detected!
Wikia is a free-to-use site that makes money from advertising. We have a modified experience for viewers using ad blockers

Wikia is not accessible if you've made further modifications. Remove the custom ad blocker rule(s) and the page will load as expected.