Belgium was one of forty-four countries to enter the North Vision Song Contest 1, the first North Vision Song Contest to be held. The Flemish broadcaster VRT selected internally Lara Fabian with the song "Deux ils, deux elles". However it failed to qualify getting the 16 place with 37 points.
Internal Selection
Due to this being the first edition, VRT was hesitant to host an expensive National Selection, that may prove a waste of money if the contest was deemed unsuccessful. Lara Fabian, a Belgian singer of Italian decent, was internally selected by VRT to represent Belgium with the song Deux ills deux; the Song lyrics speak of support for same sex marriage. Promotion for the song was limited, which was put down as a reason for the songs failure to qualify. Anther reason was that the songs slow nature wasn't good at catching the attention of the viewer, and as this was before jury vote was fully introduced; Fabians powerful voice, which wasn't on full show in the song, wasn't taken into count. The song failed to qualify for the final, and finished in 16th place, much to the disappointment of Fabian and the Belgian public. It did, however receive a 10 points from Austria.
At Northvision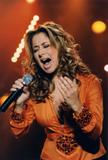 Points awarded to Belgium
Points awarded by Belgium
Semi-final

Points awarded in second semi-final:

Final

Points awarded in the final:
See also

Belgium
in the North Vision Song Contest
(Note: Entries scored out are when Belgium did not compete since their debut)
Ad blocker interference detected!
Wikia is a free-to-use site that makes money from advertising. We have a modified experience for viewers using ad blockers

Wikia is not accessible if you've made further modifications. Remove the custom ad blocker rule(s) and the page will load as expected.