Denmark took part in the second edition of the North Vision Song Contest which was hosted in Reykjavik, Iceland. The country was represented by Medina with the song "Kl. 10". The entry was selected via an internal selection by the broadcaster of the country, Danmarks Radio (DR). The song got the second place in the final with 180 points.
Before North Vision
Right after the final of the first edition the Head of Delegation of the Danish broadcaster said that Denmark would certainly be in the second edition since they would be a member of the big five. They once again selected their entry internally which was presented during a press conference. The press was held on 21 May 2013, with Louise Wolff hosting the event. Stine, member of Electric Lady Lab, was at the press and talked about her experience in the contest. Medina was revealed as the representative and performed the song right after the small interview. During the interview she was asked to talk about her song and she said: "It is written in Danish, because I think it's good to share the music in our language [...] The song is an electropop song, similar to my previous songs. I hope the Denmark and Europe will like it". "Kl. 10" (At ten) represented Denmark in the second edition.
As the previous Danish song, "Kl. 10" peaked at several charts with the best being the first places at the Danish, British and Albanian charts. The North Vision in Concert was not held for this edition and therefore Denmark couldn't have further promotion for their song. 
At North Vision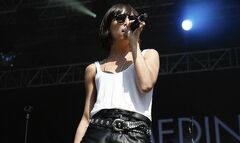 At the allocation drawn, Denmark was drawn to vote in the second semi-final. Denmark was an automatic qualifier as a member of the big five. During the press conference for the big 5, Denmark was drawn to perform in the first half of the final and was later drawn to perfrom ninth.
They received 180 points and achieved for a second time in a row the second place and got a place in the big 5 for the third edition. With six sets of 12 points, Denmark received for second time the most 12 points in the final.
Both the semi-finals and the final were broadcast by DR. Nicolaj Molbech and Louise Wolff served as the final and semi-finals television commentator respectively while Andrea Elizabeth was the radio commentator for second edition in a row. Tim Schou was the spokesperson that announced the Danish voting in the final.
Voting
Points awarded to Denmark
Points awarded to Denmark (Final)

| 12 points | 10 points | 8 points | 7 points | 6 points |
| --- | --- | --- | --- | --- |
| | | | | |
| 5 points | 4 points | 3 points | 2 points | 1 point |
| | | | | |
Points awarded by Denmark
Semi-final 2 votes

| Points | Country |
| --- | --- |
| 12 | Norway |
| 10 | Greece |
| 8 | Spain |
| 7 | Romania |
| 6 | Switzerland |
| 5 | Cyprus |
| 4 | Latvia |
| 3 | Andorra |
| 2 | Poland |
| 1 | France |

Final votes

| Points | Country |
| --- | --- |
| 12 | Spain |
| 10 | United Kingdom |
| 8 | Norway |
| 7 | Romania |
| 6 | Estonia |
| 5 | San Marino |
| 4 | Cyprus |
| 3 | Albania |
| 2 | Ukraine |
| 1 | Luxembourg |
Split voting results
See also

Denmark
in the North Vision Song Contest
(Note: Entries scored out are when Denmark did not compete since their debut)