Denmark took part in the fourth edition of the North Vision Song Contest which was hosted in Gothenburg, Sweden. The country was represented by Amaranthe with the song "Amaranthine". The entry was selected via an internal selection by the broadcaster of the country, Danmarks Radio (DR). The song won the final of the edition with 175 points.
Before North Vision
Right after the results of the third edition, DR confirmed that Denmark would be participating in the fourth edition, held in Sweden. The entry would be internally selected, for fourth consecutive time. The dates of the artist and song presentation were revealed on 30 July 2013 with the artist being revealed on 1 August 2013 and the song being performed by the selected artist on 5 August 2013. Amaranthe were revealed as the Danish representative during the first press. They presented their song during the second press held in Sweden. After the song was presented in the press, Elize, lead singer of the band, said that she is glad to be taking part in the contest as they had previously tried to represent their second home country, Sweden, but did not manage to win the national selection.
Amaranthe started touring a few days after their song was presented. The song charted in several countries including Denmark, Romania, Norway, Portugal and the United Kingdom. This time the host of the North Vision in Concert was decided through a poll. Denmark submitted the Koncerthuset hall in Copenhagen and won the poll. As Denmark was the host, Amaranthe performed last in the concert. 
At North Vision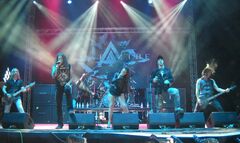 At the allocation drawn, Denmark was drawn to perform in the second half of the second semi-final and were later drawn to perform at the twentienth place. During the semi-final results, Denmark was announced as the first qualifier and managed to keep the country's success in the contest.
During the grand final, they were drawn to perform in the second half. Later, it was decided that they would perform twenty-second. Denmark won the edition with 175 points receiving the highest points from FYR Macedonia, Luxembourg, Bosnia and Herzegovina and Spain. Denmark became the second host of the North Vision in Concert to win the respective edition.
Both the semi-finals and the final were broadcast by DR. Nikolaj Molbech was the final television commentator for fourth edition while Lise Rønne served as the semi-final television commentator. Louise Wolff, who was previously a television commentator, served as the radio commentator. Bryan Rice was the spokesperson that announced the Danish voting in the final.
Voting
Points awarded to Denmark
Points awarded to Denmark (Semi-final 2)

| 12 points | 10 points | 8 points | 7 points | 6 points |
| --- | --- | --- | --- | --- |
| | | | | |
| 5 points | 4 points | 3 points | 2 points | 1 point |
| | | | | |
Points awarded to Denmark (Final)

| 12 points | 10 points | 8 points | 7 points | 6 points |
| --- | --- | --- | --- | --- |
| | | | | |
| 5 points | 4 points | 3 points | 2 points | 1 point |
| | | | | |
Points awarded by Denmark
Semi-final 2 votes

| Points | Country |
| --- | --- |
| 12 | Azerbaijan |
| 10 | Czech Republic |
| 8 | San Marino |
| 7 | Slovakia |
| 6 | Moldova |
| 5 | Belgium |
| 4 | Luxembourg |
| 3 | Portugal |
| 2 | Belarus |
| 1 | Russia |

Final votes

| Points | Country |
| --- | --- |
| 12 | Azerbaijan |
| 10 | Romania |
| 8 | Norway |
| 7 | France |
| 6 | Germany |
| 5 | San Marino |
| 4 | Belgium |
| 3 | B&H |
| 2 | Slovakia |
| 1 | Czech Republic |
Split voting results
See also

Denmark
in the North Vision Song Contest
(Note: Entries scored out are when Denmark did not compete since their debut)