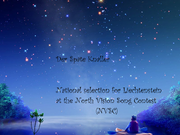 The first edition of "
Der Späte Knaller
" was held on the 17th June in Vaduz, 

Liechtenstein
 . 
10 artists fought for the title:
After there has been a tie between Lisa Wohlgemuth , "Heartbreaker " and David Pfeffer , "I'm Here ", there was a final vote between them. Lisa Wohlgemuth won the tie with 4-3 . So "Heartbreaker " will represent Liechtenstein in Switzerland . 
Ad blocker interference detected!
Wikia is a free-to-use site that makes money from advertising. We have a modified experience for viewers using ad blockers

Wikia is not accessible if you've made further modifications. Remove the custom ad blocker rule(s) and the page will load as expected.