Føroyskur Sangur
is an annual National Selection organized by
Kringvarp Føroya
. It determines the
Faroese
entrant for each
North Vision Song Contest
edition it is hosted for. It was introduced in the
sixteenth edition
of the contest.
Selection of participants
Artists and songs
Famous and successful, aswell as unknown and new artists get the chance to show off their talent in Sangur Føroysk. Every artist must have a Faroese-Danish passport. Artists from other countries or regions are not allowed to enter the competition according to the official reglement. Before the actual selection, artists have to go through a casting by Faroese music managers and the head of delegation of the Faroe Islands who will select the five artists that fit best for diversity in the show and for the stage performance at the North Vision Song Contest.
All of the songs have to be an original song by the artists themselves. Covers are not allowed. Each song has to have a length between 2:45 and 5:00 minutes. If a song is too short or too long for the NBU standard, the song has to be revamped. Every artist has the right to select their song on their own. The jury that pre-decides on the artists cannot influence the artists' decision on the song. The songs are allowed to be sung in English, Danish and Faroese. All in all, the selection follows the NBU reglements.
Hosting
Venue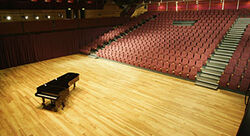 The Nordic House in Tórshavn has been selected and used by the broadcaster KVF for several years and will keep on being the host venue for the Faroese selections. The Nordic House offers place for up to 500 seated viewers and offers a concert stage
Format
Each edition consists of one show with a total amount of 5 songs by 5 different artists. Each artist performs their song once live. The winner of the selection will be the one who gets the most votes of the international jury and the Faroese public combined.
Voting
Each international and the Faroese jury will give 12 points to their favourite song, then 10 points, 8 points, 4 points and 2 points for their least favourite song. The Faroese public is able to call or send a text message 10 times. The televoting results will then be converted into points, using the same amount of points the juries could give overall, which is 180 points, to split the voting into two equal parts.
Winners