Georgia returned to the tenth edition of the North Vision Song Contest which was hosted in Bergen, Norway. The country was represented by Nino Dzotsenidze with the song "Shavia Zgva". The entry was selected via the national selection "A Song For Georgia 1".
"A Song For Georgia 1"
After the incidents of the previous edition, a new HoD confirmed that a broadcaster change was made so that Georgia could now return to the contest. The official confirmation was made the 14th July 2014.
A few days later (17th July 2014), GPB could officially confirm that the very first edition of the new selection format A Song For Georgia will take place in order to select the Georgian representant for NVSC #10. In the evening of that day, the six lucky artists of the NS were introduced.
The 25th July 2014, the announcement of the respective entries started. The songs were revealed along with their drawing number in the National Final.
The voting in "A Song For Georgia 1" started the 5th August 2014. All the NBU broadcaster were able to vote in the NS by giving 12 points to their favourite, and then 8, 4, 2, 1 and 0 points. The voting lasted until the 25th August 2014.
One day after the voting deadline (26th August 2014), GPB revealed the final results of "A Song For Georgia 1". The results showed that "Leto" and "Shavia Zgva" had a tie for the first place. Both songs received 60 points on the final scoreboard. But in the end, GPB chose Nino's entry as it got more "12" than "Leto".
So Nino Dzotsenidze was the winner of the first edition of "A Song For Georgia". She will be flying the Georgian flag to Bergen in Norway where the tenth edition of NVSC will take place.
At Northvision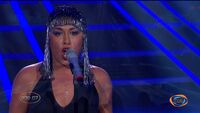 At the allocation drawn, Georgia was drawn to get a wildcard for the second half of the second semifinal. That means that the Georgian HoD could choose the drawing number of Nino. Georgia performed third last in the semi-final.
Nino Dzotsenidze didn't manage to qualify to the Grand Final. "Shavia Zgva" ended up 13th in the semifinal with 64 points.
Voting
Table key
    

Winner – Georgia gave points to a winning song

    

Second place – Georgia gave points to a runner-up song

    

Third place – Georgia gave points to a third place song

    

Qualified – Georgia gave points to a song that was a qualifier

    

Non-qualified – Georgia gave points to a song that was not a qualifier