Georgia took part in the sixteenth edition of the North Vision Song Contest which was hosted in Jerusalem, Israel. The country was represented by Tako Meliqishvili with the song "Nu Metyvi". The entry was selected via an internal selection.
Selection
The 6th August 2014, the Georgian delegation around the HoD Antone Gomerishvili had a meeting in the main office in Tbilisi. It was discussed whether Georgia will continue its participation in the North Vision Song Contest or not. A second metting had to be arranged in order to discuss two possible options: Georgia will either confirm its participation and select the entry internally or Georgia will withdraw.
The 16th August 2015, the second meeting of the Georgian delegation took place. The result of the meeting was the confirmation of Georgia that they will definetely participate in the sixteenth edition.
So it was sure that Georgia will select the next entry internally. Like it was already organized in the fourteenth edition with "Paper Boat" by Rati Durglishvili, the Georgian HoD Antone Gomerishvili planned to reveal several clues about the next entry. After the clues' revelation, a show was held where the officially chosen entry was presented.
From the 1st September to the 5th September 2015, the five clues were scheduled. Every day, the delegation asked the public to make guesses about the answer to a question. After the five hints were known, the public was able to suggest songs which they think it could be the searched entry.
After all the five clues were revealed, the public only knew that the next Georgian entry is a ballad in Georgian performed by a solo female artist debuting in the North Vision Song Contest.
The song presentation was scheduled to the 6th September 2015. The show included a performance of the former NVSC winner from Kazakhstan A-Studio with "Prosto Proshay", an interview with the next Georgian representant Tako Meliqishvili and a preview of a few songs chosen for NVSC #16. Finally, the song which Tako will sing in Jerusalem was presented. It is her ballad "Nu Metyvi".
At Northvision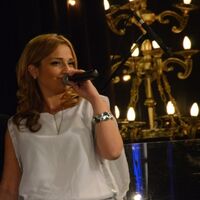 At the allocation drawn, Georgia was drawn to perform in the first half of the first semifinal. Georgia performed first in the semi-final and so opened the whole contest.
Tako Meliqishvili was not able to qualify to the Grand Final by getting last with 19 points, which means that Georgia will have to attend the Pre-Qualification Round of next edition.
Voting
Table key
    

Winner – Georgia gave points to a winning song

    

Second place – Georgia gave points to a runner-up song

    

Third place – Georgia gave points to a third place song

    

Qualified – Georgia gave points to a song that was a qualifier

    

Non-qualified – Georgia gave points to a song that was not a qualifier
See also