Georgia took part in the eightteenth edition of the North Vision Song Contest which was hosted in Brussels, Belgium. The country was represented by Soufee with the song "Moya vselennaya". The entry was selected via an internal selection.
Selection
Original selection
The 24th December 2015, the Georgian HoD Antone Gomerishvili had confirmed that Georgia will participate in Brussels, even after the failure of "Gibberish" the edition before. The entry was selected internally.
The past editions, there was a show presenting the internally selected entry. Due to organisation problems, no show has been broadcasted. Instead of that, the chosen artist and its entry were revealed separately.


The chosen artist, Sofia Nizharadze, was presented the 2nd February 2016. Her song which she was supposed to sing had been revealed and presented the 6th February 2016 during an interview on a talk show. Sofia's chosen song is called "The Reason I Go On".
Controversy
Nearly two weeks passed before the Georgian delegation got a message from the NBU council. The originally chosen entry "The Reason I Go On" was detected as a cover of the same-named song by Celine Dion. That means that Sofia wasn't able to participate with her entry.
The Georgian HoD Antone Gomerishvili decided to choose another artist which should compete in Brussels. the 17th February 2016, the choice got to Sophie Avazashvili, commonly known as Soufee. Her song "Moya vselennaya" had been chosen by Gomerishvili to compete in March.
At Northvision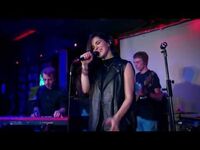 At the allocation drawn, Georgia was drawn to perform in the second half of the second semifinal. Georgia performed first in the semi-final and so opened the whole contest.
Soufee was not able to qualify for the Grand Final by getting 19th with 29 points, which means that Georgia will have to attend the Pre-Qualification Round of next edition.
Voting
Table key
    

Winner – Georgia gave points to a winning song

    

Second place – Georgia gave points to a runner-up song

    

Third place – Georgia gave points to a third place song

    

Qualified – Georgia gave points to a song that was a qualifier

    

Non-qualified – Georgia gave points to a song that was not a qualifier
See also