Georgia took part in the nineteenth edition of the North Vision Song Contest which was hosted in Italy. The country was represented by Rati Durglishvili with the song "Crazy". The entry was selected via "A Song For Rati".
Selection
Internal selection
The 24th April 2016, the Georgian HoD officially confirmed that Georgia will participate in the next edition which will be held in Italy. Together with the participation the HoD confirmed to that time that Georgia would go through an internal selection as the participation in the Pre-Qualification Round requires a strong song representing the country.
The 28th April 2016, it was revealed that the "system" of the internal selection stayed the same as the last few ones. The method is like follows: Day after day, a new clue about the next song will be revealed to the public. After five hints, the song presentation will be broadcasted with a show with different acts, interviews and the respective presentation of the next entry.
From the 29th April to the 3rd May 2016, the five clues were scheduled. Every day, the delegation asked the public to make guesses about the answer to a question. After the five hints were known, the public was able to suggest songs which they think it could be the searched entry.
The original date for the song presentation was scheduled to the 6th May 2016.
Selection changes
After the presentation placed 2 days after the original date (8th May 2016), the public was surprised by an announcement of the Georgian delegation that the selection method would change from "internal" to "national".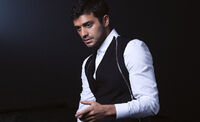 It was confirmed that Rati Durglishvili, the first Georgian in Northvision history to participate in the Grand Final, has been chosen to represent Georgia in NVSC #19. He participated with two songs in the spontaneously organised National Selection called "A Song For Rati". The public had therefore to decide one of these two songs, which they wanted to see in Italy.
The originally planned and internally selected song "Crazy" competed against the new released song "Feel Space".
| Draw | Song | Language | Translation | Place | Votes (%) |
| --- | --- | --- | --- | --- | --- |
| 1 | "Crazy" | English | - | 1 | 21 (72.41 %) |
| 2 | "Feel Space" | Georgian | - | 2 | 8 (27.59 %) |
The song "Crazy" has won the National Selection with 21 votes against 8 for "Feel Space". Therefore Rati will sing "Crazy" in the North Vision Song Contest 19.
At Northvision
At the allocation drawn, Georgia was drawn to perform in the first half of the second semifinal. Rati didn't manage to qualify from the semifinal, receiving 111 points from juries and televotes and therefore ending in 13th place.
Voting
Table key
    

Winner – Georgia gave points to a winning song

    

Second place – Georgia gave points to a runner-up song

    

Third place – Georgia gave points to a third place song

    

Qualified – Georgia gave points to a song that was a qualifier

    

Non-qualified – Georgia gave points to a song that was not a qualifier
See also