Georgia took part in the eighth edition of the North Vision Song Contest which was hosted in Liverpool, Bosnia and Herzegovina. The country was represented by Diana Gurtskaya with the song "Radi Schast'ya". The entry was selected via an internal selection.
Internal Selection
The 27th February 2014, the Georgian HoD confirmed that Georgia will participate in the North Vision Song Contest 8.
The song which should represent Georgia in the North Vision Song Contest 8 was revealed approximately two months later, the 24th April 2014. The artist was the former Eurovision participant Diana Gurtskaya. At Eurovision, she gained international fame with her performance in ESC 2008, where she placed 11th.
GPB was proud of announcing her as the next Georgian representant in Northvision. The song she would perform was called "Radi Schast'ya".
At Northvision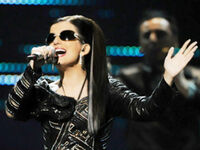 At the allocation drawn, Georgia was drawn to perform in the first half of the first semi-final. Georgia performed fifth in the semi-final.
Although she was successful in Eurovision, Diana Gurtskaya didn't manage to qualify to the Grand Final. "Radi Schast'ya" ended up last in the semifinal with 16 points.
Voting
Table key
    

Winner – Georgia gave points to a winning song

    

Second place – Georgia gave points to a runner-up song

    

Third place – Georgia gave points to a third place song

    

Qualified – Georgia gave points to a song that was a qualifier

    

Non-qualified – Georgia gave points to a song that was not a qualifier

Georgia
in the North Vision Song Contest
(Note: Entries scored out are when Georgia did not compete since their debut)