HomeTown



six piece

Background information
Origin
Ireland
Instruments
Vocals

Years active

2014 -present

Associated acts

Louis Walsh
Members
Josh Grey Dean Gibbons Brendan Murray Cian Morrin Dayl Cronin Ryan McLoughlin is not single

HomeTown are an Irish boyband formed in 2014 by Louis Walsh (previous manager of Girls Aloud, Westlife etc).
Background and formation (2014)
In 2014 Louis Walsh held auditions for a new boyband, he hoped would become the next
Westlife
and speculated by some to be the next
One Direction
, however Walsh protested they were to be more alike to fellow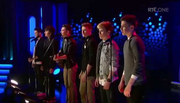 British boyband
Take That
. Thousands audtioned and Walsh spent "Each month I had to keep whittling them down, I finally got down to ten and it was really difficult to decide who'd make the cut."
The band were introduced to the world on the Late Late Show on the 3rd of June performing a cover of Katy Perry's hit song "Roar" receiving positive feed back and living up to their comparisons.
Debut single and Northvision (2014 - present)
The band debuted their debut single "Where I Belong" again on The Late Late Show on the 14th of November 2014; it was then released 14 days later on the 28th, where a week later Ireland's offical charts would reveal the song had reached number 10 in the Irish single charts.
Following RTÉ's announcement that the broadcaster would be breaking from tradition and sending an internally selected act, rumours (later proven to be false) began to fly the act representing Ireland would be One Direction. On the 28th of December (lining up with the release of their single) it was announced HoweTown would be represneting Ireland in the North Vision Song Contest 12.
Discography