In It To Win It 1

Dates
Host
Venue
Wembley Stadium
Presenter(s)
Emma Willis
Broadcaster
BBC
Voting
Entries
12
System
Jury
Winner
Kove Ft. Moko - Hurts
In It To Win It
2 ►

In It To Win It 1 is the first new formatted National Selection for the United Kingdom. It will be held to determine who will represent the country at the 17th edition of the North Vision Song Contest following the disbanded previous contest Battle for Britain.
The contest will take place in the capital city of the United Kingdom - London.
The selection process for artists was to find singers who were not very well established or known.
Venue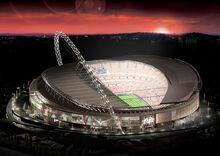 Wembley Stadium
Capacity: 90,000 (Seated)
15,000 (Standing)
Participants
| # | Artist | Song | Language |
| --- | --- | --- | --- |
| 1 | Hannah Peel | Desolation Row | English |
| 2 | Natasha North | The End | English |
| 3 | RHODES | Close Your Eyes | English |
| 4 | Charlene Soraia | Changed | English |
| 5 | Gwenno | Patriarchaeth | Welsh |
| 6 | Pryti | Insomnia | English |
| 7 | Lewis Watson | Stay | English |
| 8 | Saint Raymond | Come Back | English |
| 9 | Emmy the Great | Paper Forest (In The Afterglow of Rapture) | English |
| 10 | Lucy Rose | Till The End | English |
| 11 | BANNERS | Ghosts | English |
| 12 | Kove Ft. Moko | Hurts | English |
Running Order
| # | Artist | Song |
| --- | --- | --- |
| 1 | Saint Raymond | Come Back To You |
| 2 | Lucy Rose | Till The End |
| 3 | Charlene Soraia | Caged |
| 4 | Gwenno | Patriarchaeth |
| 5 | Lewis Watson | Stay |
| 6 | BANNERS | Ghosts |
| 7 | Kove Ft. Moko | Hurts |
| 8 | Hannah Peel | Desolation Row |
| 9 | Pryti | Insomnia |
| 10 | Emmy the Great | Paper Forest (In The Afterglow of Rapture) |
| 11 | RHODES | Close Your Eyes |
| 12 | Natasha North | The End |
Results
| # | Artist | Song | Points | Place |
| --- | --- | --- | --- | --- |
| 1 | Saint Raymond | Come Back To You | 112 | 8th |
| 2 | Lucy Rose | Till The End | 92 | 10th |
| 3 | Charlene Soraia | Caged | 171 | 5th |
| 4 | Gwenno | Patriarchaeth | 51 | 12th |
| 5 | Lewis Watson | Stay | 104 | 9th |
| 6 | BANNERS | Ghosts | 85 | 11th |
| 7 | Kove Ft. Moko | Hurts | 226 | 1st |
| 8 | Hannah Peel | Desolation Row | 182 | 3rd |
| 9 | Pryti | Insomnia | 133 | 6th |
| 10 | Emmy the Great | Paper Forest (In The Afterglow of Rapture) | 132 | 7th |
| 11 | RHODES | Close Your Eyes | 178 | 4th |
| 12 | Natasha North | The End | 216 | 2nd |