In It To Win It 2

Dates
Host
Venue
Manchester Arena
Presenter(s)
Fearne Cotton & Emma Willis
Broadcaster
BBC
Voting
Entries
TBC
System
Jury
In It To Win It
◄ 1 3 ►

In It To Win It 2 is the second version of the new formatted National Selection for the United Kingdom.
The contest will take place in one of the largest cities in the United Kingdom - Manchester.
The selection process began shortly after the results of the contest NVSC 17. The BBC announced their plan was to extend the contest and to branch out to more artists from not just English background and heritage, but from all parts of backgrounds within the United Kingdom.
Venue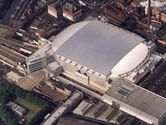 Manchester Arena
22,000 (Seating)
Participants
| # | Artist | Song | Language |
| --- | --- | --- | --- |
| 1 | Femme | Gold | English |
| 2 | Nindy Kaur | B.B.M. | Punjabi |
| 3 | Indiana | Only The Lonely | English |
| 4 | Bebe Black | Never Forget | English |
| 5 | Jennifer Davies | Disconnected | English |
| 6 | Andreya Triana | Playing With Fire | English |
| 7 | Whinnie Williams | Too Strong | English |
| 8 | Chløë Black | Wild At Heart | English |
| 9 | Izzy Bizy | White Tiger | English |
| 10 | Låpsley | Hurt Me | English |
| 11 | Lianne Le Havas | Unstoppable | English |
| 12 | Kero Kero Bonito | Picture This | English & Japanese |
| 13 | Robyn Sherwell | Islander | English |
| 14 | Oh Wonder | Without You | English |
| 15 | Raxstar | Ego | English & Punjabi |
| 16 | Ward Thomas | Guest List | English |
| 17 | Sunset Sons | Medicine | English |
| 18 | Kimberly Anne | Bury It There | English |
| 19 | Kerri Watt | You | English |
| 20 | Charlotte OC | If My House Was Burning | English |
| 21 | Fickle Friends | Say No More | English |
| 22 | Carrie Mac | Good Love After Bad | English |
| 23 | Leona Lewis | Thunder | English |
| 24 | Anne-Marie | Boy | English |
| 25 | Elle Exxe | Home With You | English |
| 26 | StooShe | Lock Down | English |
| 27 | Jack Garratt | Breathe Life | English |
| 28 | Natalie Imbruglia | Glorious | English |
| 29 | Lola Coca | Bad Girlfriend | English |
| 30 | Dappy | Money Can't Buy | English |
| 31 | Hayley Cassidy | Best In Me | English |
| 32 | Kizzy Crawford | Caer O Feddyliau | Welsh |
| 33 | Billie Marten | Bird | English |
| 34 | JONES | Hoops | English |
| 35 | Eurielle | City Of The Dead | English & Latin |
| 36 | Frances | Let It Out | English |
| 37 | Dua Lipa | Be The One | English |
| 38 | NAO | Bad Blood | English |
| 39 | Rationale | Fuel To The Fire | English |
| 40 | The Shires | State Lines | English |
| 41 | KLOE | Touch | English |
| 42 | Salt Ashes | If You Let Me Go | English |
Semi Finals
Semi Final 1
| # | Artist | Song | Points |
| --- | --- | --- | --- |
| 1 | Lola Coca | Bad Girlfriend | |
| 2 | Robyn Sherwell | Islander | |
| 3 | Oh Wonder | Without You | |
| 4 | Dappy | Money Can't Buy | |
| 5 | Kizzy Crawford | Caer O Feddyliau | |
| 6 | Nindy Kaur | BBM | |
| 7 | Indiana | Only The Lonely | |
| 8 | Chløë Black | Wild At Heart | |
| 9 | The Shires | State Lines | |
| 10 | Natalie Imbruglia | Glorious | |
| 11 | Eurielle | City Of The Dead | |
| 12 | Whinnie Williams | Too Strong | |
| 13 | Kerri Watt | You | |
| 14 | Carrie Mac | Good Love After Bad | |
Semi Final 2
| # | Artist | Song | Points |
| --- | --- | --- | --- |
| 1 | Charlotte OC | If My House Was Burning | |
| 2 | Sunset Sons | Medicine | |
| 3 | Kimberley Anne | Bury It There | |
| 4 | Jennifer Davies | Disconnected | |
| 5 | JONES | Hoops | |
| 6 | Raxstar | Ego | |
| 7 | Rationale | Fuel To The Fire | |
| 8 | Kero Kero Bonito | Picture This | |
| 9 | StooShe | Lock Down | |
| 10 | Ward Thomas | Guest List | |
| 11 | Salt Ashes | If You Let Me Go | |
| 12 | Hayley Cassidy | Best In Me | |
| 13 | Bebe Black | Never Forget | |
| 14 | Femme | Gold | |
Semi Final 3
| # | Artist | Song | Points |
| --- | --- | --- | --- |
| 1 | Nao | Bad Blood | |
| 2 | Andreya Triana | Playing With Fire | |
| 3 | Jack Garratt | Breathe Life | |
| 4 | Anne-Marie | Boy | |
| 5 | Dua Lipa | Be The One | |
| 6 | Lianne La Havas | Unstoppable | |
| 7 | Billie Marten | Bird | |
| 8 | Izzy Bizu | White Tiger | |
| 9 | Fickle Friends | Say No More | |
| 10 | Leona Lewis | Thunder | |
| 11 | Frances | Let It Out | |
| 12 | Låpsley | Hurt Me | |
| 13 | Elle Exxe | Home With You | |
| 14 | KLOE | Touch | |
Grand Final
Special Guest

Kylie Minogue
| # | Artist | Song | Points |
| --- | --- | --- | --- |
| 1 | Kerri Watt | You | |
| 2 | | | |
| 3 | | | |
| 4 | | | |
| 5 | | | |
| 6 | | | |
| 7 | | | |
| 8 | | | |
| 9 | | | |
| 10 | | | |
| 11 | | | |
| 12 | | | |
| 13 | | | |
| 14 | | | |
| 15 | | | |
| 16 | | | |
| 17 | | | |
| 18 | | | |