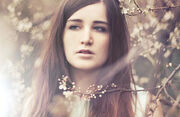 Lauren Amber Aquilina (born 23 June 1995) is an English singer-songwriter of British and Maltese descent. She was born in Bristol, United Kingdom.
Recognition
Aquilina has to date been successful is a few other European countries other than the UK. She did an 8-song set in Norway being praised by a local Norwegian newspaper.
But most impressively to note, is her success in Malta. She has topped the iTunes charts in Malta, going above established British artist Adele and has had several Maltese newspapers and radios praise her. 
In the UK, she has had a few sold out tours, with her biggest so far being the 02 Islington, London.
EPs
Title
Release Date
Fools

22nd October 2012

Sinners

22nd July 2013

Liars
1

0th March 2014

United Kingdom
in the North Vision Song Contest
(Note: Entries scored out are when the United Kingdom did not compete since their debut)