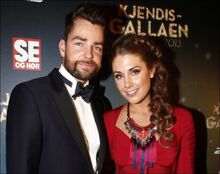 This list includes those who have acted as
presenters of the North Vision Song Contest
. Since the
first edition
the host broadcaster appointed one or more people as the presenters of the edition. Most of the editions featured one or two presenters; however, the
seventh edition
was the first and only edition to have five different hosts.
Presenters
Edn.
Presenter(s)
Edn.
Presenter(s)
#01
Kati Wolf
#13
Mei Finegold
#02
Páll Óskar
#14
Zhanar Dugalova
#03
Tanja Bachmann
#15
Louise Wolff and Ulla Essendrop
#04
Eric Saade and Petra Mede
#16
Bar Refaeli, Ivri Lider and Johnny Goldstein
#05
Bryan Rice and Signe Molde
#17
Susanne Wille, Monika Fasnacht and Amanda Ammann
#06
 Nadine Hani, Rita Hayek and Malek Maktabi
#18
An Lemmens and Maureen Louys
#07
Holly Willoughby (Semi-final 1)
Emma Willis (Semi-final 2)
Fearne Cotton (Final)
Chlöe Howl and Graham Norton (Final Results)
#19
Alessio Bernabei, Federico Russo and Sabrina Impacciatore
#08
Maya Sar, Vukašin Brajić and Marija Šestić
#20
Alban Skënderaj, Alketa Vejsiu and Eneda Tarifa
#09
Nadia Hasnaoui, Erik Solbakken and Haddy N'jie
#21
Olga Lounová
#10
Tone Damli and Markus Foss
#22
Poli Genova
#11
Zlata Ognevich
#23
Petra Mede and David Lindgren
#12
Lise Rønne and Casper Christensen
#24
Ramona Rotstich and Kati Bellowitsch
Presenters born outside of the host country
Some of the presenters selected by the host broadcaster were not born in the host country but in another one and were selected either because they work there or because they have origins from the country. Those are listed below in alphabetical order.
Presenters who competed in the contest
Some of the presenters also competed in the contest, either before or after the edition they hosted. The presenters who also competed in the contest are listed below in alphabetical order.
See also
Ad blocker interference detected!
Wikia is a free-to-use site that makes money from advertising. We have a modified experience for viewers using ad blockers

Wikia is not accessible if you've made further modifications. Remove the custom ad blocker rule(s) and the page will load as expected.