Made in Andorra 5 will be the fifth edition of the Andorran national selection which will select Andorra's entry for the seventeenth edition of North Vision Song Contest.
Announcement
On the 8th October, it was revealed that the Made in Andorra was going to return after 2 editions of break. As well as that, it was also revealed that Ruth Lorenzo would host the selection.
On the 12th October, RTVA announced the first participant of the edition and the last one was announced on the 17th of October.
Venue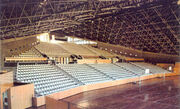 Poliesportiu is the main music & sport venue of Andorra, seating 1784 people.
Final
| Draw | Language | Artist | Song | Place | Points |
| --- | --- | --- | --- | --- | --- |
| 01 | Spanish | Jose Montoro | "Loca de Atar" | 6 | 246 |
| 02 | English | Garson | "Beautiful Death" | 5 | 267 |
| 03 | English | Sofi de la Torre | "That Isn't You" | 2 | 304 |
| 04 | Spanish | Ángel Capel | "De Promesas No Sabes Nada" | 3 | 300 |
| 05 | Spanish | Lourdes Savarese | "Mi Veneno" | 4 | 294 |
| 06 | Spanish | Rocío Rivas | "Las Puertas del Pasado" | 1 | 317 |
Voting Grid

See also