"Maldugunis dzēšot" (English: Deleting a fen fire) is a song by Latvian singer Antra Stafecka. It was chosen to represent Latvia in the North Vision Song Contest 5 in Denmark.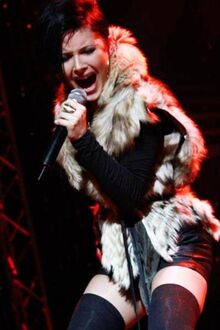 Antra Stafecka won the selection but her victory wasn't that straightforward. She actually reached the second place in the selection, but since the first placed song could not enter, and the crowd choose her song over other songs, she got the ticket to Denmark with her pop-rock ballad like song which is about that the Latvian people needs to join together. Though it scored the worst result of Latvia in the contest by far.
Ad blocker interference detected!
Wikia is a free-to-use site that makes money from advertising. We have a modified experience for viewers using ad blockers

Wikia is not accessible if you've made further modifications. Remove the custom ad blocker rule(s) and the page will load as expected.