Milli Secim Turu 02 was the second edition of the Azerbaijani national selection which selection Azerbaijan's entry for the seventh edition of North Vision Song Contest.
Announcement
On the 24th December, is was revealed that the Heydar Aliyev Palace had been chosen once again to host the second edition of Milli Secim Turu. As well as that, it was also revealed that Leyla Aliyeva would host the selection.
On the 1st January, AzTV began to announcement the participants who would be taking part in the second edition of Milli Secim Turu which ran over the course of 10 days. The full list of participants was revealed on the 10th January.
Venue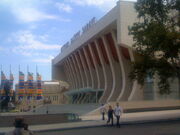 Heydar Aliyev Palace is the main music venue of Baku, Azerbaijan, seating 2158 people. The palace was renamed after the death of Azerbaijani President Heydar Aliyev in 2003. Alish Lemberanskiy was the designer and main visioner of the palace.

The venue reopened in November 2008 after extensive renovation. It was considered as possible location for Eurovision Song Contest 2012, which will be hosted by Azerbaijan- but the venue was later confirmed as the Baku Crystal Hall, a brand new arena and concert facility, built in 2012.
Final
Italic Foreign act selected by the jury members from AzTV.
Voting
In the final, all jury members were asked to vote in Eurovision style; 1, 2, 3, 4, 5, 6, 7, 8, 10 & 12 will be given to each participant. The artist with the highest amount of votes was then chosen to represent Azerbaijan in the seventh edition of North Vision Song Contest.
List of countries that voted
Final
Countries
Algeria, Andorra, Azerbaijan, Belgium, Bosnia and Herzegovina, Bulgaria, Cyprus, Denmark, France, Iceland, Kazakhstan, Liechtenstein, Lithuania, FYR Macedonia, Malta, Moldova, Norway, Portugal, Sweden, Ukraine, United Kingdom
21
12 points
No.
Song
Country/ies giving 12 points
7
Sən və Mən
Andorra, Bulgaria, Denmark, Iceland, Malta, Moldova, United Kingdom
3
Forgotten Promises
Algeria, Azerbaijan, Bosnia and Herzegovina
Say Maybe
Kazakhstan, Sweden, Ukraine
2
100 Baar
Belgium, France
Wonder
Liechtenstein, Portugal
1
Fantasy
Norway
Mysli
Lithuania
Qurban verərdim
FYR Macedonia
Waiting For Your Call
Cyprus
Spokespersons
See also
External links
Ad blocker interference detected!
Wikia is a free-to-use site that makes money from advertising. We have a modified experience for viewers using ad blockers

Wikia is not accessible if you've made further modifications. Remove the custom ad blocker rule(s) and the page will load as expected.