| | |
| --- | --- |
| | This article, Moldova in the North Vision Song Contest 10, or parts of it is actively undergoing a major edit for a short while. To help avoid edit conflicts, please do not edit this page while this message is displayed. |
Moldova took part in the tenth edition. The country was represented by Boris Covali with the song "Flying". The entry was selected via an internal selection.
Background
Further information: Moldova in the North Vision Song Contest
The entry was yet again seleted internally through the amount of entires that were supposed to participate in the cancelled, fourth edition of Șansa ta. Boris Covali and his popular song "Flying" got to represent Moldova.
Preparation
It achieved never seen popularity, being among the last chosen entries. It earned the biggest chances of winning according to the Betting Odds, placing Moldova as 1st.
Promotion
North Vision Song Contest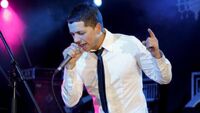 As it easily qualified in Semi Final One, it got the draw of #15 in the Grand Final. In an exiting voting, it kept on being in the Top 10 all the time and managed to become 4th in the end.
Points awarded at the contest
Semi-final 1 votes

| | |
| --- | --- |
| 12 | TBA |
| 10 | TBA |
| 8 | TBA |
| 7 | TBA |
| 6 | TBA |
| 5 | TBA |
| 4 | TBA |
| 3 | TBA |
| 2 | TBA |
| 1 | TBA |

Final votes

| Points | Country |
| --- | --- |
| 12 | TBA |
| 10 | TBA |
| 8 | TBA |
| 7 | TBA |
| 6 | TBA |
| 5 | TBA |
| 4 | TBA |
| 3 | TBA |
| 2 | TBA |
| 1 | TBA |
Points Awarded to Moldova (Semi-Final)

| 12 points | 10 points | 8 points | 7 points | 6 points |
| --- | --- | --- | --- | --- |
| | | | | |
| 5 points | 4 points | 3 points | 2 points | 1 point |
| | | | | |
Points earned at the contest
Spokesperson
See also

Moldova
in the North Vision Song Contest
(Note: Entries scored out are when Moldova did not compete since their debut)