Moldova took part in the second edition. The country was represented by Alexandrina with the song "Printre Flori". The entry was selected via an internal selection.
Background
Further information: Moldova in the North Vision Song Contest
Preparation
Despite their failure in NVSC #2, MLTV continued the participation in the third edition. Again, the artist and the song were chosen internally. It has been decided to send the female singer Alexandrina with "Printre Flori" to Switzerland.
Promotion
North Vision Song Contest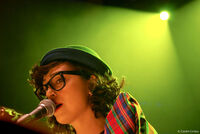 She did not manage to qualify. With an amount of 45 points and the 17th place in in Semi Final One in Winterthur , this has been the worst placing by Moldova in NVSC so far. Today, Alexandrina has not shown much interest of participating again for Moldova.
Points awarded at the contest
Semi-final 1 votes

| | |
| --- | --- |
| 12 | TBA |
| 10 | TBA |
| 8 | TBA |
| 7 | TBA |
| 6 | TBA |
| 5 | TBA |
| 4 | TBA |
| 3 | TBA |
| 2 | TBA |
| 1 | TBA |

Final votes

| Points | Country |
| --- | --- |
| 12 | TBA |
| 10 | TBA |
| 8 | TBA |
| 7 | TBA |
| 6 | TBA |
| 5 | TBA |
| 4 | TBA |
| 3 | TBA |
| 2 | TBA |
| 1 | TBA |
Points Awarded to Moldova (Semi-Final)

| 12 points | 10 points | 8 points | 7 points | 6 points |
| --- | --- | --- | --- | --- |
| | | | | |
| 5 points | 4 points | 3 points | 2 points | 1 point |
| | | | | |
Points earned at the contest
Spokesperson
See also