Moldova took part in the fourth edition. The country was represented by Angelika Vee and Kylian Mash with the song "Cash Out". The entry was selected via an internal selection.
Background
Further information: Moldova in the North Vision Song Contest
Preparation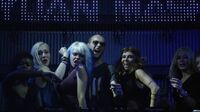 MLTV withdrew from NVSC and the NBU. As Fans in Moldova were very dissapointed and sad, TRM decided to join the NBU and NVSC next to the EBU and ESC. They decided for this time to select their entry internally, with the plans of National Selections in the future. Angelika Vee, together with the french DJ Kylian Mash were announced to participate for Moldova with the song "Cash Out". The song earned good ratings before the actual contest.
Promotion
North Vision Song Contest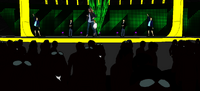 In Gothenburg, Angelika and Kylian performed at #3 in the Second Semi Final: Winning the Televoting and the overall 6th place with 81 points, this marked the first qualification of the small country. In the Grand Final, they've been drawn to perform in #7. The arena was amazed by their performace. In the end, they've achieved the 13th place with an amount of 109 ponts, placing 4th in the televoting. This edition marked the interest of Angelika Vee in Northvision Song Contest.
Performance
The performance of Moldova was created by Rick Saaltud for the contest.
Points awarded at the contest
Semi-final 1 votes

| | |
| --- | --- |
| 12 | TBA |
| 10 | TBA |
| 8 | TBA |
| 7 | TBA |
| 6 | TBA |
| 5 | TBA |
| 4 | TBA |
| 3 | TBA |
| 2 | TBA |
| 1 | TBA |

Final votes

| Points | Country |
| --- | --- |
| 12 | TBA |
| 10 | TBA |
| 8 | TBA |
| 7 | TBA |
| 6 | TBA |
| 5 | TBA |
| 4 | TBA |
| 3 | TBA |
| 2 | TBA |
| 1 | TBA |
Points Awarded to Moldova (Semi-Final)

| 12 points | 10 points | 8 points | 7 points | 6 points |
| --- | --- | --- | --- | --- |
| | | | | |
| 5 points | 4 points | 3 points | 2 points | 1 point |
| | | | | |
Points earned at the contest
Spokesperson
See also

Moldova
in the North Vision Song Contest
(Note: Entries scored out are when Moldova did not compete since their debut)