Moldova took part in the sixth edition. The country was represented by Mani and FireLove with the song "Miroase-a mare". The entry was selected via a national selection.
Background
Further information: Moldova in the North Vision Song Contest
Preparation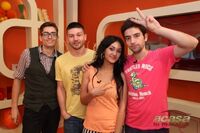 The entry was selected through the first edition of Șansa ta. It included five acts from Moldova, five acts from Romania and one foreign act from the United States. Mani and the band FireLove won this edition with the chilling song "Miroase-a mare". It had some fans, but never reached as much popularity as the previous entry.
Promotion
An important point in this edition was the leaked theme song of NVSC #6 in Beirut. It got sent to TRM Headquarters and was very soon hacked by an anonymous group. It uploaded a weird peice of it to YouTube. It was shutdown by TRM and the NBU.
North Vision Song Contest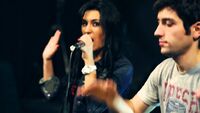 It failed to qualify for the Final. It reached the 13th place in the Semi Final. Mani and FireLove disbanded the work. Mani showed further interest as sole artist in the following editions.
Points awarded at the contest
Semi-final 1 votes

| | |
| --- | --- |
| 12 | TBA |
| 10 | TBA |
| 8 | TBA |
| 7 | TBA |
| 6 | TBA |
| 5 | TBA |
| 4 | TBA |
| 3 | TBA |
| 2 | TBA |
| 1 | TBA |

Final votes

| Points | Country |
| --- | --- |
| 12 | TBA |
| 10 | TBA |
| 8 | TBA |
| 7 | TBA |
| 6 | TBA |
| 5 | TBA |
| 4 | TBA |
| 3 | TBA |
| 2 | TBA |
| 1 | TBA |
Points Awarded to Moldova (Semi-Final)

| 12 points | 10 points | 8 points | 7 points | 6 points |
| --- | --- | --- | --- | --- |
| | | | | |
| 5 points | 4 points | 3 points | 2 points | 1 point |
| | | | | |
Points earned at the contest
Spokesperson
See also

Moldova
in the North Vision Song Contest
(Note: Entries scored out are when Moldova did not compete since their debut)