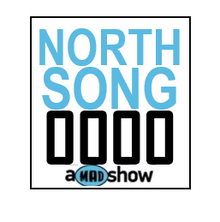 The
NorthSong
is the
greek
national selection for the
North Vision Song Contest
which determines the greek participant for the
North Vision Song Contest
.
The contest is being held in a city from Greece. ERT (prv.NERIT) promotes songs sung in greek, but songs in other languages aren't declined anyway.
Voting
The voting is based on 50% Televoting and 50% jury voting.
Hosting
Edition
City
Host
2nd Host
Green-Room-Host
Fan-Block-Host
#01
Athens
Stella Kalli
Melina Aslanidoy
Mairy Synatsaki
Maria Kozakou
#02
Athens
Maria Backodimoy
Fotis Sergoulopoulos
Evangelia Aravani
#03
Athens
Matthildi Maggira
Betty Maggira
Mairy Synatsaki
#04
Athens
Demy
Elisavet Spanou
Shaya
#05
Athens
Despina Vandi
Giorgos Kapoutzidis
Melina Aslanidou
#06
Athens
Doukissa Nomikoy
N/A
Athena Manoukian
#07
Athens
Giorgos Kapoutzidis
Elisavet Spanou
#08
Athens
Doukissa Nomikou
Shaya
#09
Athens
Manto Gasteratou
#10
Athens
#11
Athens
#12
Athens
Winners
So far, most of the winners have been in the Greek language. However, the second,third and seventh winners were songs in the English language. The third,fifth,sixth,seventh,eighth, ninth and tenth winners are amongst the non-qualifications of the country. "Anemos Agapis" currently holds the record for the best-placed winner of the selection.