North Evradesil 02 was the second edition of the Armenian national selection which selection Armenia's entry for the seventh edition of North Vision Song Contest. It has the same hosts and venue as the last edition.
Announcement
On the 25th December, ARMTV began to announce the participants who would be taking part in the second edition of North Evradesil which ran over the course of 6 days. The full list of participants isn't revealed yet.
Is was also revealed that the Karen Demirchyan Sports and Concerts Complex had been chosen to host the first edition of North Evradesil. As well as that, it was also revealed that Gohar Gasparyan and http://en.wikipedia.org/wiki/Avet_Barseghyan%7CAvet Barseghyan had been selected to host the selection.
Venue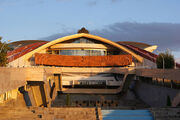 Karen Demirchyan Sports and Concerts Complex is the main music venue of Yerevan, Armenia, seating 11.000 people.
Final
Italic: the song is the foreigh act, so the singer/song is not from Armenia.