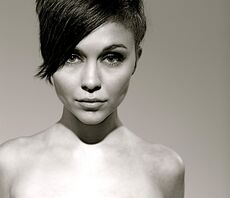 Pati Sokół is a singer from Poland. She was internally selected to represent Poland in the North Vision Song Contest 13 along with Ania Iwanek and Piotr Cugowski with the song "Miasto".
Career
At the age of 9, Pati recorded a song with Richard Rynkowski for "HEART For A Smile" Foundation. Her whole childhood and teenage years was filled with singing at choirs and various music groups. In September 2011, Pati helped to support the Charity Foundation "You Are Not Alone", and performed in the Pepsi Arena Stadium in front of 35.000 people befre a charity match: artists versus politicians. The match was broadcasted live on television. In October 2011, Pati flew to Los Angeles at the invitation by THE Seth Riggs (the legend, the teacher, the creator of the Speech Level Singing technique), and was officially admitted to the group of his few students, joining the group of his students, who are e.g. Stevie Wonder, Ray Charles, Barbra Streisand, Natalie Cole, Chaka Khan, and many other great stars – and, above all, his closest friend Michael Jackson the King, whom Seth taught for 32 years. In LA she recorded three songs.
Externa links
Ad blocker interference detected!
Wikia is a free-to-use site that makes money from advertising. We have a modified experience for viewers using ad blockers

Wikia is not accessible if you've made further modifications. Remove the custom ad blocker rule(s) and the page will load as expected.