Pre-Qualification Round 10


Endure

Dates
Final
6 August 2016
Host
Venue
Palatul National
Chisinau, Moldova
Presenter(s)
Geta Burlacu
Pasha Parfeny
Olivia Furtuna
Participants
Entries
8
Voting
System
Each country awarded:


12, 10, 8-4 points (participants)




12, 10, 8-3 points (non-participants)

Qualifiers
2
Pre-Qualification Round
◄ 9 11 ►
Pre-Qualification Round 10 (often abbreviated PQR 10), was a pre-event held for the twentieth edition of the North Vision Song Contest. Eight countries participated and two of them qualified to the semi finals. Moldova was chosen as the host country and the venue was the Palatul National in Chisinau.
Location
For further information see Chisinau
Chișinău is the capital of Moldova and its largest city, with a population of 492,894 as of 2014. The city is located in the direct center of Moldova, located between cities such as Iasi, Lviv and Odessa.
Chisinau is located on the river Bâc, a tributary of the Dniester. Its strategic trade location can not be understated. The city lies in central Moldova and is surrounded by a relatively level landscape with very fertile ground. It has been settled since 1436, serving first as a monastery village.
Eventually growing larger due to Russian influence consuming the previously Moldavian country, Chisinau served as a safe harbour during the 19th century, especially for Jews. This, however, was to change with the Second World War, effectively decimating their numbers. Nowadays, Chisinau is preserving the architecture of its previous occupiers. Many streets of Chisinau are named after historic persons, places or events. Independence from the Soviet Union was followed by a large-scale renaming of streets and localities from a Communist theme into a national one.
Bidding phase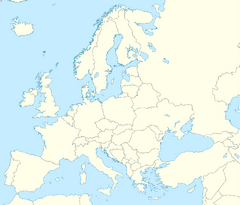 The hosting submissions for the pre-qualification round started on 25 July 2016 and ended two days later, on 27 July 2016. Several countries showed interest, including Slovakia, who'd shown interest several times before. Slovenia and Turkey applied, served as hosts for the fifth and first edition respectively. Moldova applied after applying for the fifth round, whilst the Czech Republic applied for the first time.
The host was selected through a poll. After two days of voting, Moldova was selected as the host of the event with 53 out of the 127 votes, making up 41.73% of the votes.
Format
In the tenth pre-qualification, the five countries that ended in the bottom of the two semi-finals of the nineteenth edition had to compete. However, as Egypt and Serbia withdrew from the twentieth edition, there were eight instead of ten countries competing. Egypt originally confirmed their participation but was forced to withdraw after being sanctioned by the NBU. There were two qualifiers, making it a total of twenty countries in each of the semi-finals of the edition.
Results
Voting grid
Voting results
Greece
65
10
10
8
4
7
12
4
10
Finland
46
12
4
5
6
4
6
6
3
Montenegro
65
7
4
10
12
8
8
8
8
Russia
42
4
6
5
7
6
5
5
4
Israel
57
5
7
8
6
5
7
7
12
Faroe Islands
69
10
12
12
7
8
4
10
6
Malta
58
6
8
6
4
5
12
12
5
Lebanon
69
8
5
7
12
10
10
10
7
12 points
See also