Pre-Qualification Round 5


#MoveForward!

Dates
Final
4 March 2015
Host
Venue
Tivoli Hall
Ljubljana, Slovenia
Presenter(s)
Marjetka Vovk and Aleš Vovk (Maraaya)
Participants
Entries
7
Voting
System
Each country awarded:


12, 10, 8-5 points (participants)




12, 10, 8-4 points (non-participants)

Qualifiers
1
Pre-Qualification Round
◄ 4 6 ►
Pre-Qualification Round 5 (often abbreviated PQR 5), was a pre-event held for the thirtheen edition of the North Vision Song Contest. Seven countries participated and one of them qualified to the semi finals. Slovenia was chosen as the host country and the venue was the Tivoli Hall in Ljubljana.
Location
For further information see Ljubljana
Ljubljana is the capital and largest city of Slovenia.
Located at the middle of a trade route between the northern Adriatic Sea and the Danube region, it was the historical capital of Carniola, a Slovene-inhabited part of Austria-Hungary, and it has been the cultural, educational, economic, political, and administrative center of independent Slovenia since 1991. Its central geographic location within Slovenia, transport connections, concentration of industry, scientific and research institutions and cultural tradition are contributing factors to its leading position.
Bidding phase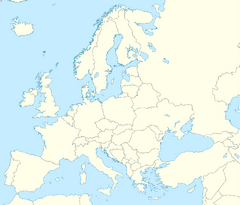 The hosting submissions for the pre-qualification round started on 1 March 2015 and ended one day later, on 2 March 2015. Nine countries applied to host the event this time. First to apply was returning applicant, Hungary who applied to host the event in the National Theatre for the fourth time. FYR Macedonia also applied to host the event and submitted the Boris Trajkovski Sport Center as their venue. Slovenia submitted the Tivoli Hall for the event with a capacity up to 4.050. Georgia joined the bidding phase with the Rustaveli National Theatre.
Armenia was the fifth country to join the bidding phase and their venue was Yerevan Opera Theater. Slovakia also applied to host with the Leopoldov Prison. Moldova joined the bidding phase with their venue being the Musical-Drama Theatre of Cahul. Andorra submitted Poliesportiu D'Andorra for their hosting application. Last country to apply was San Marino with the Grand Hotel as their chosen venue.
The host was selected through a poll. After one day of voting, Slovenia was selected as the host of the event with 29 out of the 134 votes.
Format
In the fifth Pre-Qualification Round, the five countries that ended in the bottom of the two semi-finals had to compete. However, as Portugal withdrew and Armenia and Luxembourg were "safe" because they already particpated in the fourth Pre-Qualification Round, there were only seven countries competing. There was only 1 qualifier, making it a total of twenty-one countries in each of the semi-finals of the North Vision Song Contest 13.
Results
Voting grid
Voting results
Latvia
57
12
5
8
12
5
8
7
Croatia
68
10
12
10
6
12
12
6
Tunisia
50
7
8
7
8
10
5
5
Cyprus
56
5
10
10
5
8
10
8
Malta
64
12
7
7
12
7
7
12
Turkey
52
6
6
8
6
10
6
10
Morocco
41
8
5
6
5
7
6
4
See also
Ad blocker interference detected!
Wikia is a free-to-use site that makes money from advertising. We have a modified experience for viewers using ad blockers

Wikia is not accessible if you've made further modifications. Remove the custom ad blocker rule(s) and the page will load as expected.