Sweden participated in the North Vision Song Contest 16 in Jerusalem, Israel. The Swedish entry was selected through Fantasifestivalen 16, a national final format that consisted of one final, organised by Swedish broadcaster Sveriges Television (SVT). Agnes Carlsson represented Sweden with the song "Human Touch", which came twenty-first in the final and scored 82 points.
Fantasifestivalen 16 was the Swedish music competition that selected Sweden's entry for the North Vision Song Contest 16. Hosted by Christer Björkman, the format changed compared to previous years. Agnes Carlsson was interally selected by SVT and performed 5 different songs in the national final.
| Draw | Song | Composer(s) | Viewers | Place |
| --- | --- | --- | --- | --- |
| 1 | "Like God" | Agnes Carlsson, Shereen Shabana, Tony Nilsson | 241,267 | 5 |
| 2 | "Human Touch" | Agnes Carlsson, Vincent Pontare, Tony Nilsson | 386,712 | 1 |
| 3 | "Nothing Else Matters" | Agnes Carlsson, Vincent Pontare, Sharon Vaughn | 273,338 | 4 |
| 4 | "Loaded" | Agnes Carlsson, Sharon Vaughn, Tony Nilsson | 358,718 | 2 |
| 5 | "All I Want Is You" | Agnes Carlsson, Ana Diaz, Vincent Pontare | 337,004 | 3 |
At Northvision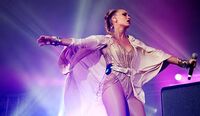 Due to Dinah Nah's top 6 finish in the previous edition, Sweden was a member of the BIG 6 and thus automatically qualified for the final. During the running order draw, Sweden was drawn to compete 11th in the grand final, following Bulgaria and preceding Spain. Sweden came 21st in the final, scoring 82 points.
On stage, Agnes was joined by three backing dancers and two backing vocalists. The performance was memorable for the overuse of wind machines.
In Sweden, both the semi-finals and the final were broadcast on SVT1 with commentary by the Head of Delegation Jan Simonis. The shows were also broadcast via radio on Sveriges Radio P4 with commentary by Carolina Norén and Ronnie Ritterland. The Swedish spokesperson revealing the result of the Swedish vote in the final was Lynda Woodruff.
Points awarded to Sweden
Points awarded by Sweden
Split voting results
See also

Sweden
in the North Vision Song Contest
Ad blocker interference detected!
Wikia is a free-to-use site that makes money from advertising. We have a modified experience for viewers using ad blockers

Wikia is not accessible if you've made further modifications. Remove the custom ad blocker rule(s) and the page will load as expected.