Sweden participated in the North Vision Song Contest 5 in Aarhus, Denmark. The Swedish entry was selected internally by Swedish broadcaster Sveriges Television (SVT). NONONO represented Sweden with the song "Pumpin Blood", which came third and scored 163 points in the grand final.
Fantasifestivalen 05 was not held to determine the Swedish entry. Instead SVT has chosen the entry internally.
On 22 September 2013, it was announced that NONONO would represent the country in Aarhus with their song "Pumpin Blood".
At Northvision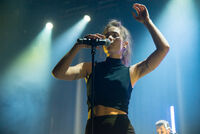 In the allocation draw, Sweden was drawn to compete 15th in the first semi-final, following Cyprus and preceding Montenegro. It finished 4th with 100 points and thus qualified to the final. During the running order draw, Sweden was drawn to compete seventeenth in the grand final, following Belgium and preceding Poland. Sweden came 3rd in the final, scoring 163 points.
On stage, the three members of NONONO the focus being on the front singer. They were joined by three backing singers.
In Sweden, both the semi-finals and the final were broadcast on SVT1 with commentary by the Head of Delegation Jan Simonis. The shows were also broadcast via radio on Sveriges Radio P4 with commentary by Carolina Norén and Ronnie Ritterland. The Swedish spokesperson revealing the result of the Swedish vote in the final was Melissa Horn.
Points awarded to Sweden
Semi-final

| 12 points | 10 points | 8 points | 7 points | 6 points |
| --- | --- | --- | --- | --- |
| | | | | |
| 5 points | 4 points | 3 points | 2 points | 1 point |
| | | | | |
Final

| 12 points | 10 points | 8 points | 7 points | 6 points |
| --- | --- | --- | --- | --- |
| | | | | |
| 5 points | 4 points | 3 points | 2 points | 1 point |
| | | | | |
Points awarded by Sweden
Split voting results
The following five members comprised the Swedish jury:
See also

Sweden
in the North Vision Song Contest