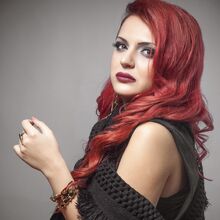 Thea is a singer from the Former Yugoslav Republic of Macedonia.
She was chosen to represent FYR Macedonia in the North Vision Song Contest 13 in Tel Aviv, Israel with her song "Mi treba malku vreme" after winning the national selection. She was later selected internally to represent the country for second time, in the North Vision Song Contest 15 with her song "Eho".
Ad blocker interference detected!
Wikia is a free-to-use site that makes money from advertising. We have a modified experience for viewers using ad blockers

Wikia is not accessible if you've made further modifications. Remove the custom ad blocker rule(s) and the page will load as expected.