VIA Gra



Group members from 2000 to 2005

Background information
Origin
Kiev, Ukraine

Years active

2000–present
Labels
Sony Music (2001-2004)
CD Land (2002-2012)
Monolit Records (2006-2007)
Amusic (2008-2012)

Associated acts

Ani Lorak, Verka Serduchka, Valeriy Meladze, Jolin Tsai, Sofia Rotaru, TNMK
Website
www.viagraofficial.ru
Members
Erika Gerceg
(2013-present)
Misha Romanova
(2013-present)
Anastasia Kozhevnikova
(2013-present)

Past members

See below

VIA Gra (Ukrainian: ВИА Гра) promoted as Nu Vigros outside Russia, Ukraine and other nearby countries, is a Ukrainian girl group formed in 2000. The name VIA Gra is both a reference to the drug Viagra and a play on words, since the first three letters stand for "vocal-instrumental ensemble" in Ukrainian, and "gra" means "game" (or "play") in Ukrainian. VIA Gra was a Ukrainian girl group that hit the charts in these countries in September 2000 with their first single "Popytka No. 5". Their first success outside the Russian language area was in May 2004 with the single "Stop! Stop! Stop!", an English version of their 2002 Russian song. The group is known for their frequent lineup changes, with 13 different individuals having at one time been in the group. The group was co-created by Dmitriy Kostyuk and Konstantin Meladze. Kostyuk is the manager of the group and the co-producer of the group's albums. Meladze is the writer of the group's songs and the co-producer of the group's albums.
History
Rebirth (2013–present)
In the beginning of 2013, Konstantin Meladze announced a new casting for his show, "Hochu v VIA Gru" ("I want in VIA Gra"). The casting was formatted as a reality TV show, consisting of eight episodes, by the end of which three new soloists were chosen by popular vote: Misha Romanova, Erika Gerceg and Anastasia Kozhevnikova. In November 2013, they released their new single and music video, entitled, "Peremiriye" ("Truce").
Meanwhile, during Meladze's casting, Dmitriy Kostyuk, ex-general producer of VIA Gra, announced his own new lineup. In fall 2013, he presented his VIA Gra: Darya Rostova, Darya Medovaya and Aina Vilberg. At a show in Kiev, they performed singles from their new album "Magiya" ("Magic"). This has caused further tensions amongst Meladze and Kostuyk, who were already at odds since the dissolution of the old VIA Gra.
In May 2014, VIA Gra released its second single since its revival, "У меня появился другой (I've Got Another Man)", featuring rapper Вахтанг (Vakhtang).
Members
Timeline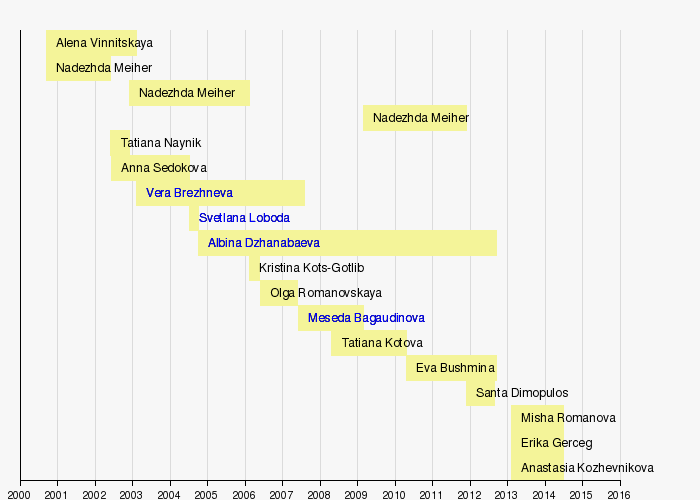 Discography
Studio albums
Popytka No. 5 (2001)
Stop! Snyato (2003)
Biologiya (2003)
Stop! Stop! Stop! (2004)
L.M.L. (2007)
Compilation albums
Brillianty (2005)
Potselui (2007)
EEmancipation (2008)
External links